This English translation (©) is by Mr. Juho Kunsola and was translated over a time period from 2005 to 2016 using the 1925 Finnish translation by Mr. Pekka Ervast as the sole source. Mr. Ervast did his brilliant Finnish translation based on western sources.
What motivated me to do this work was that the English language versions of this world philosophical gem floating around the Internet seemed a bit dim to me when compared with Mr. Ervast's translation.
Maximum fidelity to communicate the content unchanged has been my guideline in this work.  If I find time I will iterate over the 81 chapters with help of autotranslators from Chinese, which was not a possibility for Mr. Ervast in the 1920's when he did his work.
Before I began the translation task I contacted Ruusu-Ristin Kirjallisuusseura ry. to inquire about permission to do this translation work and they said "Ok, go ahead.", so there should be no problem in publishing this translation as a book if I find a publisher.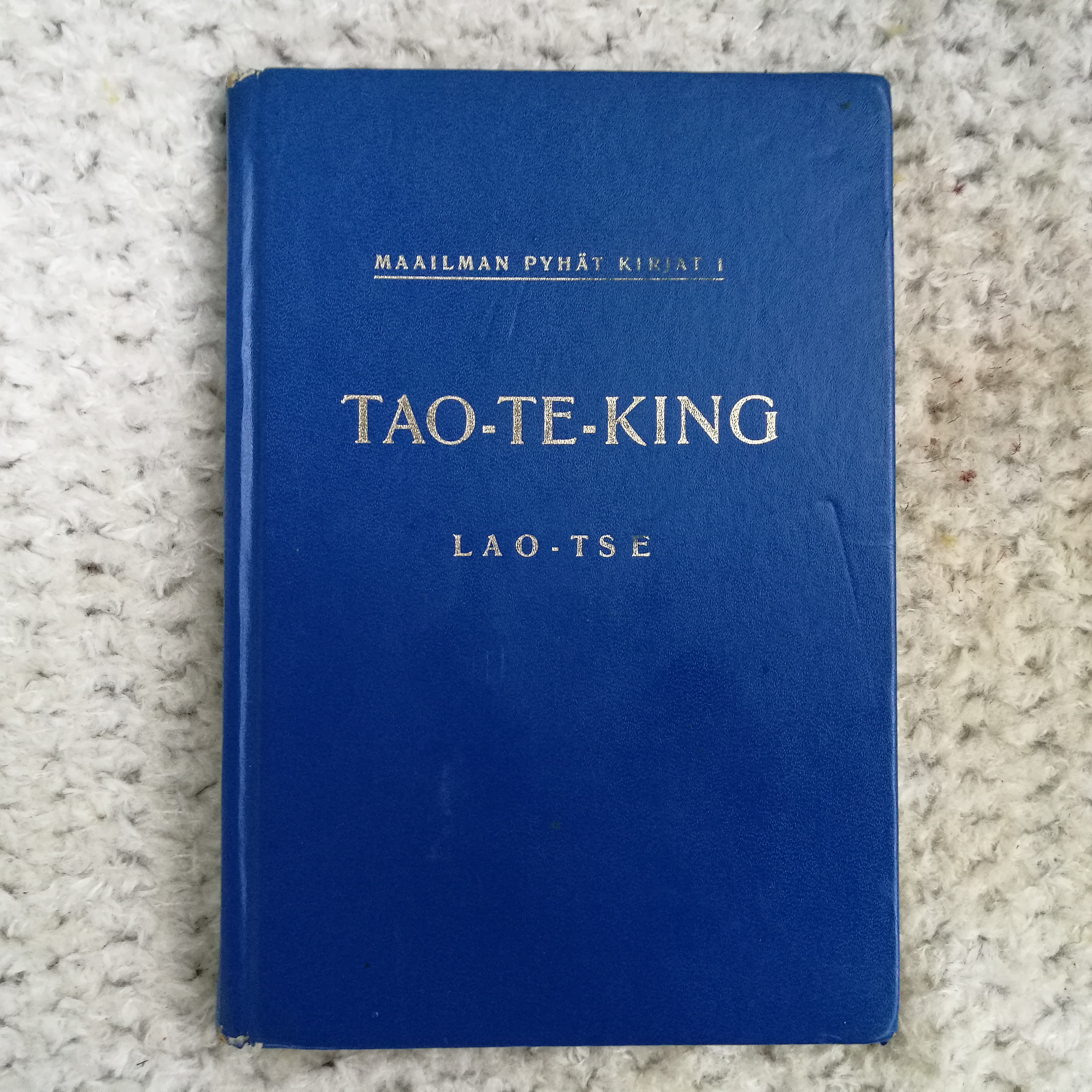 The Finnish translation is available in
Versions available on the Internet
In Chinese / 中文
'老子 by Laozi' (PD), released in 2007 on Project Gutenberg
In English
Français
---
The Book of the Way of Virtue
Known by the names
Dàodéjīng (Pinyin romanization)
Tao Te King (Wade-Giles romanization)
道德经– (中文 / Chinese)
Tao Te Ching (Wikipedia)
Written by Laozi circa 700 BC
Chapter 1. Definition of Tao
[table id=tao1 /]
---
Chapter 2. Becoming perfect
[table id=tao2 /]
---
Chapter 3. Calming people
[table id=tao3 /]
---
Chapter 4. Innocent
[table id=tao4 /]
---
Chapter 5. The value of emptiness
[table id=tao5 /]
---
Chapter 6. The origin of beings
[table id=tao6 /]
---
Chapter 7. Concealing light
[table id=tao7 /]
---
Chapter 8. The inexpensive nature
[table id=tao8 /]
---
Chapter 9. Building equality
[table id=tao9 /]
---
Chapter 10. What is possible
[table id=10 /]
---
Chapter 11. Usefulness of emptiness
[table id=11 /]
---
Chapter 12. Closing doors
[table id=12 /]
---
Chapter 13. Stopping from falling to low places
[table id=13 /]
---
Chapter 14. Praising emptiness
[table id=14 /]
---
Chapter 15. Portraying virtue
[table id=15 /]
---
Chapter 16. Going home
[table id=16 /]
---
Chapter 17. Being natural
[table id=17 /]
---
Chapter 18. Mending
[table id=18 /]
---
Chapter 19. Returning to nature
[table id=19 /]
---
Chapter 20. Remaining distant
[table id=20 /]
---
Chapter 21. Empty spring
[table id=21 /]
---
Chapter 22. Lifting the little ones
[table id=22 /]
---
Chapter 23. Not joining
[table id=23 /]
---
Chapter 24. The honor that is not desirable
[table id=24 /]
---
Chapter 25. Grasping emptyness
[table id=25 /]
---
Chapter 26. Virtue of worthyness
[table id=26 /]
---
Chapter 27. Utility of skillfulness
[table id=27 /]
---
Chapter 28. Becoming a child
[table id=28 /]
---
Chapter 29. Inactioning
[table id=29 /]
---
Chapter 30. Removing self from battle
[table id=30 /]
---
Chapter 31. Ending war
[table id=31 /]
---
Chapter 32. Rational virtue
[table id=32 /]
---
Chapter 33. Distinguishing virtue
[table id=33 /]
---
Chapter 34. The perfect state
[table id=34 /]
---
Chapter 35. The virtue of benevolence
[table id=35 /]
---
Chapter 36. Concealed concent
[table id=31 /]
---
Chapter 37. Of governance
[table id=37 /]
---
Chapter 38. Of virtue
[table id=38 /]
---
Chapter 39. At the source of the spring
[table id=39 /]
---
Chapter 40. Declining work
[table id=40 /]
---
Chapter 41. The similar and the different
[table id=41 /]
---
Chapter 42. Changes in Tao
[table id=42 /]
---
Chapter 43. Unlimited utility
[table id=43 /]
---
Chapter 44. Staying silent
[table id=44 /]
---
Chapter 45. Boundless virtue
[table id=45 /]
---
Chapter 46. Limiting lust
[table id=46 /]
---
Chapter 47. Looking far
[table id=47 /]
---
Chapter 48. The trouble with knowledge
[table id=48 /]
---
Chapter 49. The virtue of concession
[table id=49 /]
---
Chapter 50. Life's value
[table id=50 /]
---
Chapter 51. Recommending virtue
[table id=51 /]
---
Chapter 52. Returning to origin cause
[table id=52 /]
---
Chapter 53. Growing of clarity
[table id=53 /]
---
Chapter 54. The root and the branches
[table id=54 /]
---
Chapter 55. Marvelous harmony
[table id=55 /]
---
Chapter 56. Wondrous virtue
[table id=56 /]
---
Chapter 57. Right government
[table id=57 /]
---
Chapter 58. To allow others to heal themselves
[table id=58 /]
---
Chapter 59. Protecting Tao
[table id=59 /]
---
Chapter 60. Filling the throne
[table id=60 /]
---
Chapter 61. Virtue of humbleness
[table id=61 /]
---
Chapter 62. The practical Tao
[table id=62 /]
---
Chapter 63. Looking ahead
[table id=63 /]
---
Chapter 64. Caring for the lowly ones
[table id=64 /]
---
Chapter 65.  The simple virtue
[table id=65 /]
---
Chapter 66. Placing yourself last
[table id=66 /]
---
Chapter 67. Three precious things
[table id=67 /]
---
Chapter 68. Imitating the heaven
[table id=68 /]
---
Chapter 69. Using the highly virtue
[table id=69 /]
---
Chapter 70. The difficulty of becoming known
[table id=70 /]
---
Chapter 71. The disease of ignorance
[table id=71 /]
---
Chapter 72. Loving yourself
[table id=72 /]
---
Chapter 73. Freedom of action
[table id=73 /]
---
Chapter 74. The mistake of governance
[table id=74 /]
---
Chapter 75. The evil of greed
[table id=75 /]
---
Chapter 76. The danger of power
[table id=76 /]
---
Chapter 77. The Heavenly Tao
[table id=77 /]
---
Chapter 78. Embracing the truth
[table id=78 /]
---
Chapter 79. Keeping promise
[table id=79 /]
---
Chapter 80. Standing alone
[table id=80 /]
---
Chapter 81. Proof of simplicity
[table id=81 /]
End of the Book of the Way of Virtue
---
English translations as individual chapters posted one-by-one as blog posts. Please be aware that I made minor error corrections and improvements when I posted these in side-by-side view on this page that have not been made to these individual posts:
---
Finnish original at Wikisource under copyleft license CC-BY-SA 3.0
---
If you would like to contract me to do translations for you, you can contract me via
Directly using the contact form below